Pittsboro, NC – Chatham County Public Libraries will begin offering curbside pick-up service on Monday, June 22, 2020. Pick-up service is being offered at all three branch locations and is by phone appointment only, Monday-Friday, 10am – 4pm. Library facilities remain closed to the public.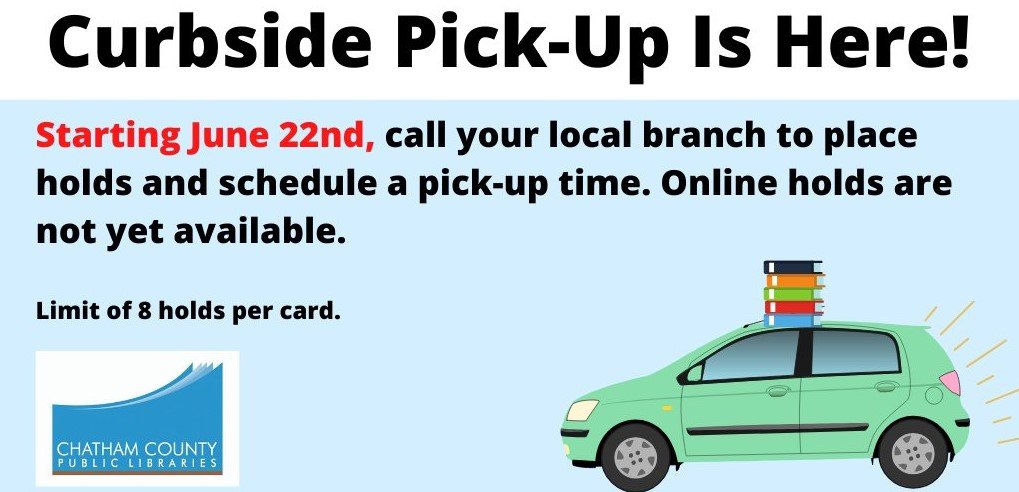 To request library materials for pick up call your local branch to reserve materials and to schedule a pick-up time. Your items will be checked-out to your account, processed and bagged by library staff. Staff will be placing held items outside the library and assisting customers with pick-up during scheduled appointment times. Library staff will be wearing protective face coverings and gloves. Protective face coverings are recommended for patrons when picking up library materials.
To place holds at the Chatham Community Library in Pittsboro, call 919-545-8084 or 919-545-8085. For the Goldston Branch, call 919-898-4522, and for Wren Memorial Library in Siler City, call 919-742-2016. All three locations will maintain the same hours of operations for placing holds and picking up items, Monday-Friday, 10am – 4pm. Phone lines may be busy due to high call volume. Please call back.
Please note the following:
Prior to your call, please visit the online catalog to determine location and availability of materials.
Holds are made by telephone appointment only. Placing holds through the online catalog is currently unavailable.
Book inventory is available on a first come, first served basis.
Up to eight (8) items may be placed on hold at one time and includes two (2) each of new adult fiction and new adult nonfiction and up to five (5) DVDs.
All materials, including DVDs, will circulate for three weeks. Overdue fines remain temporarily suspended.
Holds may only be placed for materials that reside at a particular branch. Items are not currently being transferred to other branch locations to prevent the possible spread of COVID-19.
Held items not picked up by the end of the day of your appointment will be checked in and made available for the next hold request.
Please return library materials to external book-drops. Returned materials are quarantined for three days then disinfected before being made ready for check-out.
Curbside service may be temporarily suspended due to inclement weather. Please call in advance.
Inter-library loan and in-person outreach services remain suspended until further notice.
Book donations are not being accepted at this time.
Electronic resources are available with your library card through Overdrive and include eBooks, audiobooks, and magazines. Please visit our Download eBooks site on the library webpage for device specific instructions and a link to digital collections. Overdrive tutorials are also available on the library's YouTube channel.
To apply for a library card, please use our online library card registration. No new library accounts will be processed on-site during curbside service.
Chatham County Public Libraries appreciates your patience and understanding as we try to reconstitute services to the community. For changes to Chatham County services visit the County's Novel Coronavirus (COVID-19) website and the library's Limited Services FAQ.