Durham, NC – Ninth-seeded Wake Forest heads into ACC Baseball Championship play, taking on No. 5 seed and No. 25-ranked Louisville on Wednesday before playing No. 4 seed and No. 12-ranked Duke on Thursday.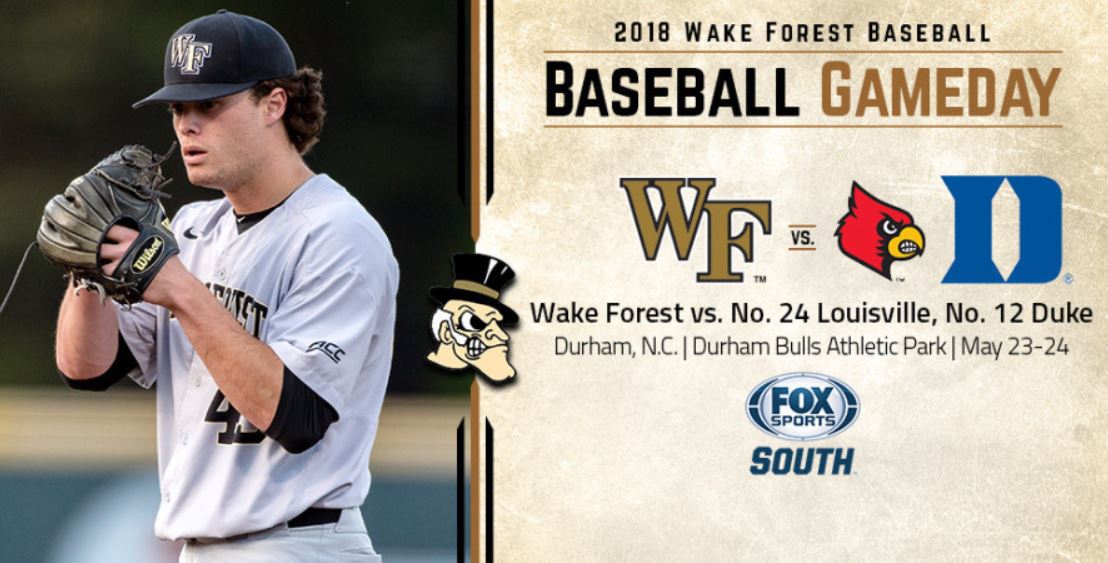 Last Time Out
• The Demon Deacons wrapped up regular season with a series victory over Virginia, capped off by an 18-12 win on Saturday.
• Chris Lanzilli led Wake Forest with three home runs and a double over the weekend. He was one of a season-high five Deacs to go deep on Saturday, joined by Jake Mueller, Bobby Seymour, Christian Long and DJ Poteet.
Wake Forest Storylines
• The Demon Deacons are a youthful squad in 2018, having started six different freshmen position players, while five rookies have seen time on the mound. Out of the position players, 237 starts have been made by freshmen (47.8 percent), compared to 96 for sophomores (19.4 percent), 163 for juniors (32.8 percent) and none by seniors.
• Wake Forest's 237 starts by true freshmen are the second-most in the country, behind only Arizona State (251). Mississippi State is next-closest with 196. Wake Forest is the only program to have five freshmen with 30+ starts each. By comparison, the Deacs totaled only 25 starts from true freshmen all season in 2017.
• The Deacs started six true freshmen on May 13 at NC State, becoming only the second team to do so this year (Vanderbilt).
• On the mound, approximately two-thirds of innings pitched have been by underclassmen. 4.1 have been thrown by seniors (0.9 percent), 183.0 by juniors (37.0 percent), 207.2 innings by sophomores (42.0 percent) and 99.1 frames from the freshmen (20.1 percent).
Scouting The ACC Championship
• Wake Forest is one of three teams in the ACC Baseball Championship (UNC, Miami) to have series wins over both other teams in its pod. Wake Forest won 2-of-3 against Louisville from March 16-18 and 2-of-3 against Duke from April 6-9, both coming at home.
• The Deacs dropped their only previous ACC Baseball Championship meeting against Louisville in 2016. Wake Forest is 7-2 in the postseason against Duke, including a 4-3 victory in the most recent game, also in 2016.
• Wake Forest is competing as the nine seed for the first time ever at the ACC Baseball Championship.