Raleigh, NC – The NC State men's basketball team came up short against No. 21 UNC-Chapel Hill Saturday afternoon, falling 96-89 in front of a sold-out PNC Arena crowd. With the loss, NC State falls to 16-9 (6-6 ACC), while the Tar Heels improve to 19-7 (8-5 ACC).
Torin Dorn led the Pack with 21 points on 10-of- 15 shooting. Allerik Freeman followed him with 17 points, and Malik Abdul-Abu (12), Markell Johnson (12), Braxton Beverly (11), and Omer Yurtseven (10) joined them in double figures.
The first half was a game of runs, as the teams traded momentum through the first 20 minutes of the outing. After UNC-Chapel Hill built up a 10-point lead (28-18) midway through the opening period, NC State fired off 19 unanswered points in just over seven minutes of play. In that span, the Pack held UNC-Chapel Hill to 0-of- 14 shooting and forced four Tar Heel turnovers.
The Tar Heels closed the half on a 7-0 run of their own as NC State took a 37-35 lead into the intermission.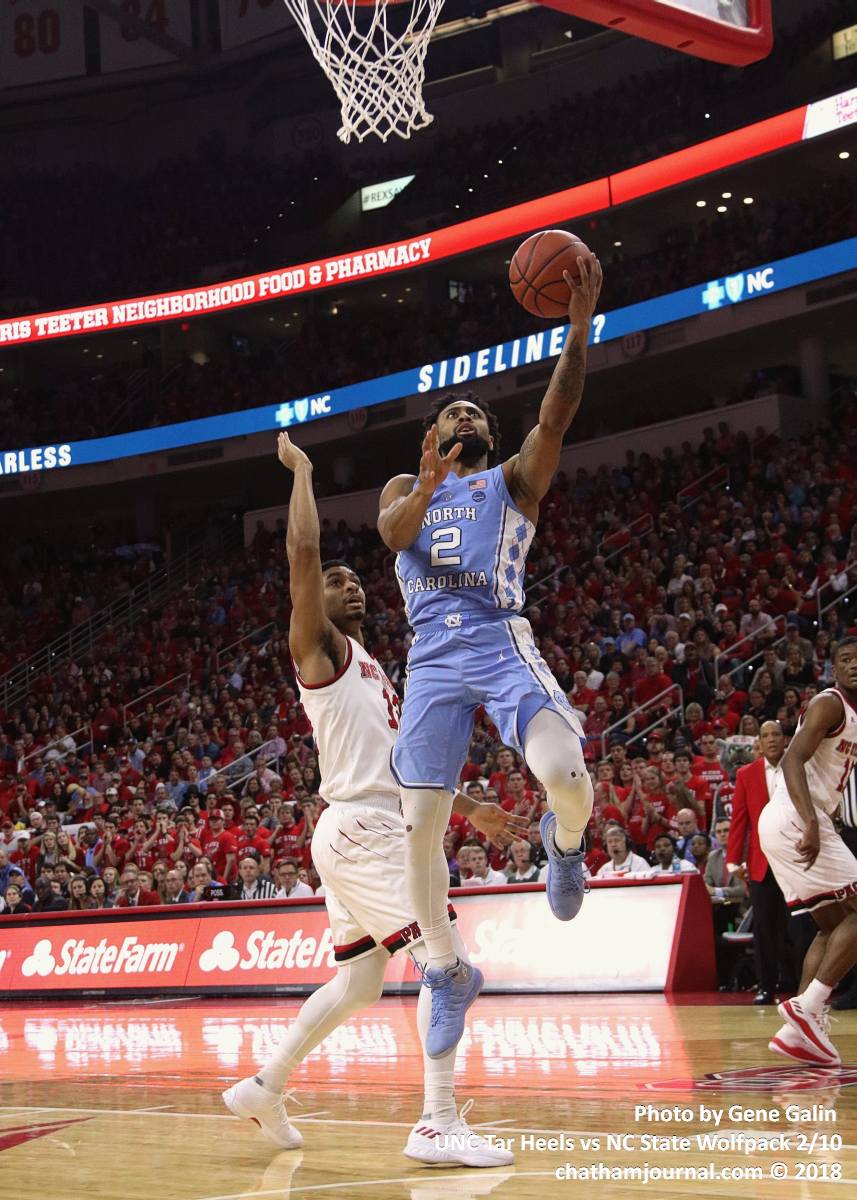 Despite shooting 60 percent from the field in the second half, the Pack was met by an offensive explosion from the Tar Heels. Luke Maye, who tallied just six points in the first half, put up 27 second-half points on a 12-of- 14 shooting performance.
UNC-Chapel Hill missed just seven shots in the final 20 minutes on the way to knocking down 78.1 percent of its second-half attempts.
The Pack trailed for a majority of the second half, but an Abu dunk that turned into a three-point play brought NC State within two points, 85-33, with 1:33 to play. UNC-CH's Kenny Williams nailed a three-pointer on the Tar Heels next possession though to push the deficit back to five and the Pack would never get any closer as North Carolina salted the game away at the free throw line.
The Pack snagged 12 steals in the loss, its second-most in a game this season and most in an ACC game, but the Tar Heels 56.3 percent shooting for the game and +17 rebounding margin proved too much to overcome.
Up next, NC State returns to the road next week as the Pack plays at Syracuse on Wednesday night. The game is scheduled to begin at 9 p.m. and will be shown on the ACC Network.