Pittsboro, NC – The second annual Pittsboro SummerFest will be held this year on July 2 as a part of the Pittsboro Business Association sponsored First Sunday events. The 2017 Pittsboro Summer fest will feature a parade, a watermelon seed spitting contest, face painting and a pie throwing contest. The event, which runs 2-8 p.m., will also have an artisan fair and market and two concert stages.
Hillsboro Street will become a block party and hometown patriotic celebration featuring:
First Sunday vendors
Live Music – Gasoline Stove on the Small Stage in the afternoon, D'Lyric and Big Time on the Big Stage in the evening.
Food
Games & Activities
Chicken Bingo
Corn Hole Tournament (sign up at the Corn Hole booth, starting at 2:00 pm, at Summerfest) $5 Single eliminations; tournament starts at 3 pm.
Watermelon Seed Spitting Contest
Pie Throwing
Dunking Booth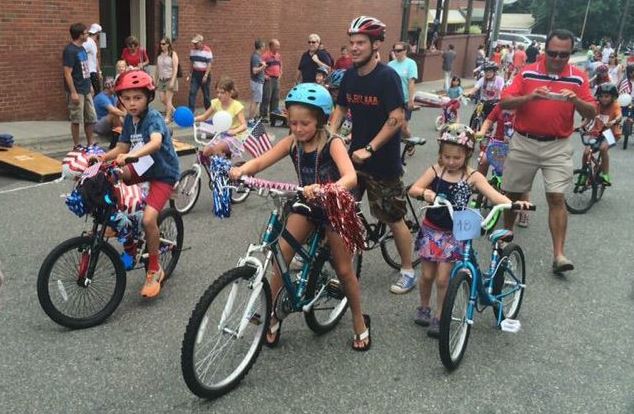 Bicycle Parade at 3 p.m.
Decorate your bike, scooter, or wagon with an Independence Day theme
All ages are welcome! Have some fun and you might win a prize!
(if you want to participate in the bicycle parade, please email by clicking here, with the parent's name, child's name, address, phone number, age (so we know what group) Preregistration is not required, but highly recommended – deadline for preregistration is June 30th. You must be ready to line up at the OLD Piggly Wiggly, located at 50 West Salisbury Street, Pittsboro, at 2:00-2:45 pm)
This year's Summerfest will feature two concert stages throughout the day. The evening will culminate with performances on the main stage by D-Lyric and Big Time!
Additional events happening at Member locations during Summerfest:
Pittsboro Toys: 15 Hillsboro Street, 10% off all American-made toys
Fair Game Beverage:  193 Lorax Ln., One free tasting during Summer Fest
New Horizons Downtown: 52 Hillsboro Street, Extended Hours until 8:00 pm today
The Joyful Jewel: 44-A Hillsboro Street, Featured Artist Reception Nancy L. Smith, "Nature's Way"  – a celebration of watermedia and collage painting, 2pm – 4pm
Starrlight Meade: 480 Hillsboro Street, #1000, Will be serving Sangria. $2 from every tasting will be donated to Carolina Tiger Rescue during the month of July.
Please use hashtag #PBOFest when posting to your social media accounts when you are are out at the Pittsboro Summerfest 2017.
There will be free parking & shuttle service from 
Alpha Install
, 
CCCC
 and Pittsboro Feed.
Special "Thank you" to Pittsboro Summerfest sponsors:
SILVER
Chatham Magazine
Shakori Hills
The Pittsboro Roadhouse
GOLD
Chatham Park
Cruizers
Eco Group: A Collaboration of Montgomery Lee-Moore Capital Company
Main Street Pittsboro
The Sign and Print Shop of Pittsboro
The Town of Pittsboro