by Jamey Cross
Chapel Hill, NC – A pickup truck with four teenage passengers and a 21-year-old driver. Traveling more than 85 mph on a curvy road with a posted speed limit of 55 mph.
Four dead. One survivor.
"Going to those homes and telling those parents that their children weren't coming home that night, that sticks with me," First Sergeant Michael Baker said.
Before Baker started working in the public information office at the State Highway Patrol, he was a state trooper in Harnett, Cumberland and New Hanover counties for 13 years. This was the worst speed-related accident he said he'd ever seen.
An April study from the Insurance Institute for Highway Safety showed that a 5 mph increase in speed could be the difference between life and death. Looking at the effects of rising speed limits since 1993, the study found that a 5 mph increase in the maximum state speed limit was associated with an 8.5 percent increase in fatality rates on interstates and a 2.8 percent increase on other roads.
In 2016 in North Carolina, there were 369 speed-related deaths and 18,956 speed-related crashes. In 24 percent of all fatal crashes that year, speeding was a contributing factor. In 2018, North Carolina state troopers wrote 346,000 citations for speeding.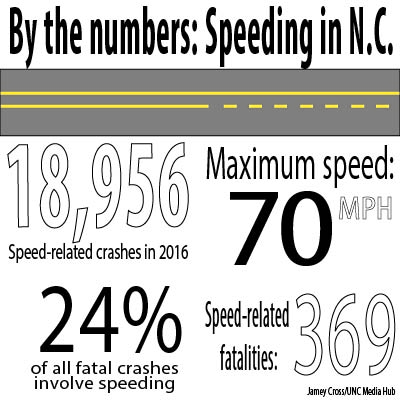 When he was a trooper, Baker wrote speeding tickets every day.
"Speeding is one of our major contributing factors to collisions," Baker said. "It's one of the things we take very seriously, and it's one of the major offenses that we monitor on the roadway."
In 1993, most states had a maximum speed limit of 65, with some as low as 55. Today, 41 states have maximum speed limits of 70 mph or higher. Six states have 80 mph limits, and drivers in Texas can legally drive 85 mph on some roads.
Since 1993, the U.S. saw 36,760 more traffic fatalities than would have been expected if maximum speed limits had not increased, according to the 2019 study.
"You don't even have to be a driver to understand that when you run into something, the faster you're going, the more it's going to hurt," said Charles Farmer, vice president for research at the Insurance Institute.
Of the speed-related fatalities in North Carolina in 2016, 88 percent occurred on non-interstate roads, and 12 percent occurred on interstate highways.
Speeding reduces a driver's ability to maneuver curvy roads, increases a vehicle's stopping time, and increases the risk of crashes and injuries, according to the N.C. Department of Transportation.
In the U.S. in 2017, a total of 9,717 deaths occurred in speed-related crashes. That's 26 percent of all motor vehicle fatalities from that year.
A crash on a road with a speed limit of 65 mph or higher is more than twice as likely to result in a fatality as a crash where the speed limit is 45 or 50 mph. Yet, maximum speed limits across the country continue to increase.
Farmer said lawmakers consider a 5 mph increase as insignificant. They argue that increases bring the law in line with reality, as most drivers exceed the posted limit.
North Carolina's maximum speed limit is 70 mph, and the state hasn't pushed to change it in more than 10 years. In 2013, the N.C. Senate considered legislation aimed at raising the state's maximum speed limit to 75 mph, but the bill failed on its second reading.
In a 2017 national telephone survey conducted by the AAA Foundation for Traffic Safety, half of drivers said they had exceeded the speed limit by 15 mph on a freeway in the past month, and nearly half reported exceeding the speed limit by 10 mph on a residential street.
"If you can get something done quickly, if you can get somewhere quickly, then you're better than the person that does it more slowly," Farmer explained.
Higher speed limits can yield societal benefits through a reduction in travel time, Farmer said, but the price comes in the form of additional deaths.
"It's easy to explain why people speed," Farmer said. "It's also easy to explain why it's more dangerous. It's just hard to get people to change their behavior and to realize that going really fast is not worth it."
Farmer said he hopes people realize that the speed limits posted are the maximum, not the minimum; you don't have to drive that fast and it really won't save you much time. He said he thinks educating drivers with that lens might be one way to help combat speed-related deaths and accidents. But, he said, law enforcement enforcing the posted speed limits would have more of an effect on reckless drivers.
Libby Thomas has been a senior research associate at the UNC Highway Safety Research Center for nearly two decades. Over that time, Thomas has participated on speed-related projects and studies, some of which have been focused on North Carolina.
Thomas said speed in North Carolina is a complex issue, especially with road design and uses change and don't always match. For example, a road may have been designed as an intra-urban highway, but suburban housing may have been added later. When this happens, Thomas said, speed limits no longer accurately reflect what may be appropriate for a certain road.
"(Speeding is) really an issue of increasing importance, especially for our urban areas," Thomas said.
As for the future of speed limits, Farmer isn't hopeful. Shortly after his study was released, he said, Oklahoma raised its maximum speed limit to 80 mph. Farmer said he thinks speed limits will continue to rise at the state level.
"I'll be happy if we can just stop where we are," Farmer said. "That's about the best I can hope for.
---
Jamey Cross is a senior from Asheboro, NC, majoring in Reporting. She has experience working with Our State Magazine in Greensboro, NC, and hopes to attend South China Morning Post's graduate trainee program in Hong Kong after graduation.