by Gene Galin
Pittsboro, NC – By the time I ran into Mike Causey at Virlie's restaurant in downtown Pittsboro, the North Carolina Insurance Commissioner had already completed a busy morning of activity. He visited the Bennett Volunteer Fire Department, Pittsboro Fire and Rescue and the North Chatham Volunteer Fire Department. Over a lunch platter of Virlie's famous fried chicken and sides, Mike took the opportunity to talk to various public safety officials.
After lunch Mike attended a meet and great event with local area insurance agents hosted by Heather Johnson at Chatham Business Services.
Mike had a chance to see the Chatham County First Responder 9/11 memorial while touring Pittsboro. Leaning just 9 degrees and 11 minutes facing directly toward Ground Zero in New York City, the steel beam from the North Tower of the World Trade Center weighs 12,000 pounds. The steel beam was acquired by the Chatham County 911 First Responder Memorial Foundation and was donated by The Port Authority of New York and New Jersey.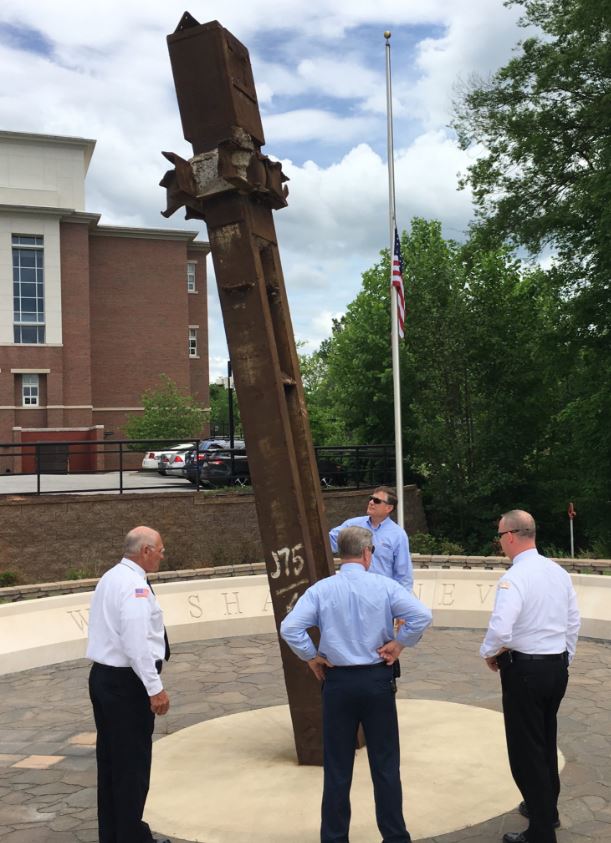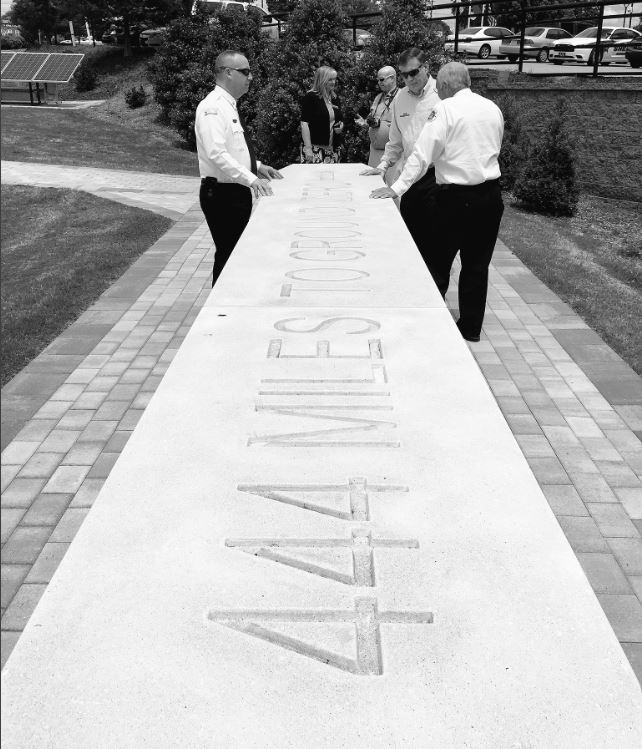 While at Virlie's Mike was kind enough to give us a few minutes of his time for an interview. The transcript of the interview is located below.
Gene Galin: This is Gene Galin for Chatham Journal and I'm with the North Carolina Insurance Commissioner Mike Causey. We're here at Virlie's with a bunch of fire dignitary. Did you count the number of people coming in as to, are we over the limit? I think it's 114.
Chatham Fire Marshall Tom Bender: I unfortunately was not counting because the chicken looks so good.
Gene Galin: The chicken looks so good. Well, we appreciate Mike visiting us here. You stopped at Bennett, you went to the Pittsboro Fire Department, you also North Chatham Volunteer Fire Department and you're also meeting with the insurance agents within the area. Tell us a little bit about your visit here at Chatham County. What have you found and is this something you do on a regular basis?
North Carolina Insurance Commissioner Mike Causey: It is something we do on a regular basis. Every week I try to get out and visit some of the counties, to visit with as many fire departments as we can within the county. And Chatham County is such a diverse county, as you know. We've covered a wide path from Bennett which is right, really, you're covering about three counties there [inaudible 00:01:07]. Randolph, more, and Chatham. Bennett is very efficient because if you look at the budgets as far as all fire departments, their budget, as I understand it, is lower than any other fire department in Chatham County. So they're doing more with less. Doing a lot with a small budget.
Mike Causey: And then we had the opportunity to visit the county seat, Pittsboro, and see their fire department that is run by the county, volunteer fire department. And all of the tremendous growth around Pittsboro and with the Chatham Park development and all of that. How it strains the resources of the fire department and the tremendous need of the Pittsboro fire department has. And of course, if you go to Bennett, Pittsboro, you tell them you're going to North Chatham, and they're going to make jokes about going to the wealthy end of the county. And you go to North Chatham and realize the tremendous area that they serve even into Alamance County and the number of stations and the number of personnel. They have over 55 firefighters that work with that department, so they're doing a lot of construction around North Chatham now to upgrade the parking facilities and the drainage.
It's just an honor for me to be able to go out and meet face to face with our volunteers, the firefighters, the fire chiefs. Had an opportunity to meet with the police chief in Pittsboro, and with the county manager. And we've met just some of the most down to earth people that live here in Chatham County.
Gene Galin: Well, you're originally from Guilford County, aren't you?
Mike Causey:  I still live in Guilford. I'm born and raised in rural Guilford County. I live on the same farm where I grew up ,and that's where I continue to live today.
Gene Galin: Now they told me not to ask this question, but I've got to, because you've been married to your wife for 43 years. What's the secret? Can you tell us?
Mike Causey: Stay away from home a lot and work. Stay on the road.
Gene Galin: There you go. Is this something you go out and see folks in the county, different counties on a regular basis?
Mike Causey: Yes, we do that practically every week, or one day a week. Some weeks, this week for example, we're in Chatham today, we'll be in Caldwell County on Thursday. So for two days this week I get to be out around the state talking to the people at fire departments, insurance agencies. And, we regulate so many different things. We regulate collection agencies, bail bondsmen. We have law enforcement officers, we do criminal investigations. We even inspect car washes and ATM machines. Who would think that's going to be done by a department of insurance?
Mike Causey: We have 25 divisions within the department. Only five of those divisions are insurance divisions. We're the chief building inspector for the state. You know how much building takes place in Chatham County. We're over engineering codes, the state building codes council, and all of those things, and you can't build anything in a county without getting the plans approved by the department of insurance. So it's a big area of responsibility.
One thing we do that people don't realize is that we're in charge of risk management for the state of Carolina. That means every building that's a state office, every piece of property that the state owns, that the people own, is under our responsibility for insurance and making sure they're properly insured. We have to make sure the employees of our university in the system are covered for liability insurance. So risk management is a big area, as insurance commissioner and elected officer, I also [inaudible 00:05:46]. We meet every month in support of the council of state so the insurance commissioner, attorney general, agriculture division and those other eight elected officers serve with the governor, lieutenant governor to vote every month on state issues. Any property that's bought or sold, or leased, has to be voted on by the council.
Gene Galin: You're doing all this other stuff, you're wearing all these hats. How do you end up also being the state fire marshal and do you have a state fire marshal hat?
Mike Causey: Yes, we have a helmet and a badge. The Department of Insurance started in 1899, and in the late 40s, I believe 1949 was when the legislature put the office of state fire marshal under the responsibility and domain of the commissioner of insurance, so it's an honor and a privilege for me to serve as state fire marshal and insurance commissioner. And that's why living in rural North Carolina as I do, we all depend on our volunteer fire departments. People don't realize that volunteers are the backbone of the fire service. Seventy percent of our fire departments are volunteer, but 90% of fire departments depends on volunteers.
Gene Galin: And what do you see as needing improvement on the volunteer fire department? Are there things that you as commissioner can help with? How's recruitment on the volunteer fire department arena?
Mike Causey: Well I think one of the biggest problems that volunteer fire departments face is recruiting. We're fortunate at Chatham County, the population here is much better than some of our rural counties with low population. So you have a good group of volunteers coming up out of high school waiting to join. I'd like to see more high schools get involved with a junior firefighter program as we have in some of the other counties. Funding's always an issue. Every fire department, in particular volunteer fire departments, the majority of those, they don't have funding, which we provide grants, state grants.
In fact, Bennett Fire Department, this morning, we just got news today grants are being announced. So we just learned this morning that the Bennett Fire Department qualified for one of our state grants. And I believe that grant was in excess of $10,000. So I congratulate the Bennett Fire Department on their efforts to achieve this grant money.
Gene Galin: What do you learn, what's the most important thing you take away from these visits to different counties and your meeting with insurance agents. You're also meeting with fire departments and public safety folks. What do you come away with as commissioner? What does Mike come back to the office in Raleigh and say, "This is what I learned when I was out on a visit"?
Mike Causey: Well you learn something everywhere you go. Every area is a little different geographically, but they basically have the same needs to serve the community. And we have, like our fire marshal's here with us here today, Tom. And he has a great handle on every fire department in this county as all county fire marshals do. But we realize it's more than a job, it's a brotherhood. And it's a high risk with high stress type job. It's something where they put their life on the line and they go out on a call. They're risking their life for community. And you have firefighters, they're not following a 9 to 5 schedule, they're on call 24 hours a day.
In some stations you have shifts and you may be working the day shift for two or three days and then take off two or three days and then come back and work a night shift. How many times have you been out to a restaurant and you see police officers or firefighters come in and order a meal, and they get a call. They never get to take the first bite because they have to go out on that call. And you look at some of the stress factors, like suicide rates. We just had a seminar in Charlotte a few weeks ago to address firefighter suicide. Suicides with fire service is ten times higher than the general population. PTSD, post-traumatic stress disorder, has a very high incidence with the firefighters. So we're doing what we can at the office of the State Fire Marshal. I have a chief here today Brian Taylor with the office of State Fire Marshal he came up through the ranks of the volunteer fire departments. He was fire marshal for the city of Albemarle 25 years.
So we're just doing what we can to help.
Gene Galin: All right. Let's step outside of Chatham County. You've been in this position for two years. What are your biggest accomplishments over the last two years and what do you see as the remaining challenges in your position?
Mike Causey: Well not quite two years. I'm now in my second year. So, 15, 16 months since January 1st, 2017. The biggest accomplishments I think, one, I brought in Brian Taylor who came out of the fire service to head up the office of the State Fire Marshal. He has really turned around the communications and made our office of the State Fire Marshal more user friendly. We've got a better working relationship with the builders and the developers and the fire marshal community. I think my biggest accomplishment has been in criminal investigations. We have doubled our investigations capability in the past year. We've gone from 20 sworn law enforcement officers when I took office to about 40 sworn law enforcement officers today. We've added attorneys to work with district attorneys to help prosecute arson cases and insurance fraud cases throughout the state. And we've helped the consumer services side, reach out and help consumers quicker and better when people have a claim, a dispute with the insurance company or they're trying to get a claim settled.
Mike Causey: So my message is, we're here to help. Whatever we can do to help you, or the people that you know, or your family. Give us a call, go to our website ncdoi.com, and it'll give you more detail.
Gene Galin: Well it sounds like you were under staffed and you've been able to get the numbers up. When you say criminal investigations, are you talking about investigating both insurance situations and fire situations?
Mike Causey: Correct. There's a lot of insurance fraud that takes place. And when I came into this office, that's the first place I went, was to the criminal investigators and it was way worse than I thought it was. We get, every month, 400 to 500 criminal complaints mostly from insurance companies. These are serious criminal matters that need investigation to determined if an arrest is needed. So you have to have sworn law enforcement officers to do this. So we get 4 to 500 criminal complaints a month, that's almost 5000 a year. When I took office we only had enough sworn officers to investigate 12%. That was way too low so last year we made 334 arrests in this state. That was 60% better than the previous year under my predecessor. I believe this year we're gonna double what we did last year. We recovered last year over $14 million for consumers. So, we're paying for fraud. Every dollar that we pay insurance premiums, we're paying somewhere between 15 and 20 cents of that dollar is going to cover fraud.
Mike Causey: So if you don't get tough on fraud and go after the crooks, we're all going to be paying more and more for insurance. So my job is to hold down insurance rates, keep these insurance companies financially solvent and help the consumer in any way we can.
Gene Galin: One last question. I noticed you're trying to make things easier to be done. You're trying to cut back on the bureaucracy. It was mentioned that North Carolina is one of the only states that has a Rate Bureau. Can you explain to the folks what a Rate Bureau is and the good or the bad, or the bad or the good of Rate Bureau.
Mike Causey: Well sure, the Rate Bureau is something that was created by the legislature. Our North Carolina General Assembly and it was created to address a problem we had decades ago called assigned risk. And when the insurance rates were way out of kilter, they charged different rates for men and women, boys and girls. So if you were a young male driver, your rate was two or three times what a female driver was. When they created the Rate Bureau they changed all that to make a uniform rate where men and women paid the same rates. But the Rate Bureau is some good and some bad. Some people have called it a little like a dictatorship or cartel because it is a representation of the insurance industry. So we don't have the same free market as some of the other states have that haven't said that the Rate Bureau has created stability over the years. So when you look at the stability factor, we have some of the lowest automobile insurance rates on average in the whole country. There's only one or two states to have lower car insurance rates than we do.
Our homeowner's rates, even though some people complain about homeowner's rates, we're about 23, I think we're 23rd lowest in the country. And we're one of the lowest in the southeast. Some of the highest states for homeowners are Florida, Texas, Louisiana, Mississippi, Oklahoma. Southeastern states. We work with the Rate Bureau, we've done a lot of things to give insurance companies more flexibility so they can do things outside of the Rate Bureau.
The political climate is just not there to completely do away with the Rate Bureau, so we're looking at ways to bring about more free market ways that insurance companies can come to this state. We're also looking at modernizing our whole insurance system.
Gene Galin: Actually, one last question. This afternoon, probably in about 40 minutes you're heading over and you're going to be talking with the insurance agents in this community. What kind of things do you discuss in those kind of meetings?
Mike Causey: Just like the question you just asked. Some folks ask us about the Rate Bureau. We get a lot of questions about something called Consent to Rate where insurance companies send a letter out and the need the policy holder's consent to raise their rates. We have a lot of questions about what we do at the department as far as our agent services division, what help we can give to agents, what help we can give to consumers.
So it's just all types of questions and the main thing, as I said earlier, we're here to help. If you're an insurance agent, you're an insurance company, you're a consumer, we're here to help. So whatever we can do to help answer your question, make your job easier or your life easier, that's what we're here for.
Gene Galin: Well, thank you. Folks, we've been talking to Mike Causey. He is the North Carolina State Insurance Commissioner and the State Fire Marshal. And we're here in Virlie's enjoying some lunch and he's just visiting with folks to see what's going on in Chatham County. Thank you so much Mike.
Mike Causey: Thank you. Thank you for having me.