by Gene Galin
Pittsboro, NC – I had a chance to sit down and discuss the business environment in Chatham County with Chatham Economic Development Corporation (EDC) president Kyle Touchstone. What was supposed to be a half hour video interview turned into an hour long discussion of all the economic growth opportunities that Kyle saw for Chatham County.
We talked about how Kyle landed up as president of the EDC in Chatham County and his greatest successes. We touched on what made Chatham County a great place to live and play and what the EDC and the county were attempting to do to improved the opportunities to work inside the county. We wrapped up with discussion about the future and where Kyle thought Chatham County would be in about a dozen years from an economic and business perspective.
Below is the transcript of our conversation with intertwining links to the video snippets on YouTube.
Gene Galin: It's Gene Galin with the Chatham Journal and the Chatham Chatlist. I'm sitting down today with Kyle Touchstone the EDC, the Chatham EDC President and we're just going to take a little Q&A here for about 30 minutes. I'm going to ask him about how he's doing in the job. He's been here a couple of years, we're going to see where we are currently with the EDC, what kind of challenges we were facing? Talk about the megasites here in Chatham County. Then finish up with taking a look at hey, where does Kyle's see EDC and Chatham County business a dozen years down the road in 2030?
Gene Galin: So Kyle tell us a little bit about yourself? You've been here what, a couple of years?
Kyle Touchstone: Yeah, I've been here for about two years, but first let me say, thank you Gene for having me today. Looking forward to discussing where we are and where we're going here in Chatham County, but a little bit about myself. I'm a Pike County, Mississippi native. Infamous for being the birthplace of Bo Diddley.
Kyle Touchstone: I grew up in a small business there. Was raised on a farm. My father owned the local hardware store and my mother owned the wedding and party rental business and really took an interest in how business operates and how it succeeds at a pretty young age.
Kyle Touchstone: I was sweeping the floors and cleaning bathrooms when I was about 12 years-old, and never really stopped working there until I left and went to college, but even then I would come back home on weekends and holidays. I don't think I had a true holiday until I was out on my own because we were out setting up tables, tents, chairs and such for town festivals and weddings.
Kyle Touchstone: But also, my father served as an elected official for 40 years, and so I really saw the public servant side, I saw the business side, and really that's kind of what got me to where I am today. I really want to help communities. I really want to see growth in communities and opportunities for everyone. That was really a driving force in my family. We were all expected to serve the public in one way or another and so here I am.
Gene Galin: Well, you were in Pike Country. So how do you end up from Pike County, to college, to Chatham County?
Kyle Touchstone: Well, I have been a couple of places and after college I did training of local elected officials in the State of Mississippi. I also worked with some contracts with Mississippi Department of Emergency Management and Homeland Security, but fulfilling different contracts, we were preparing for states of emergency and preparing counties, and so I worked in all 82 counties in Mississippi providing this training.
Kyle Touchstone: From that a municipal clerk in the County in Mississippi came to me and said, "We'd love for you to apply to be our chamber director." At that time I was 25 and said, "I don't know what I'm doing. I wouldn't be able to do that." Well I got the job and about 10 months after starting in that position our county along with two other counties landed Toyota tire megasite and I went through some really fast training on how to do economic development.
Up until that point our county really didn't have an Economic Development Office. We had several large industry from the furniture and textile industry and so, as the chamber president I was spending more time just nurturing those relationships, assisting but never really worked on recruitment of projects or growth of manufacturers and so, really had to learn quickly.
My first project that I presented to was a supplier to Toyota in Mississippi and a site selector by the name of Dennis Cuneo was who I had to present to. I didn't know that he was the guy who had done all of Toyota site selection locations up until just recently, and so, I guess I was in one of those situations where I was too dumb or too young to be scared and so-
Gene Galin: So Dennis was one of the people that started with Toyota. I think the first facility here in the US was outside Lexington…
Kyle Touchstone: Right, right.
Gene Galin: Versailles, where they call them Versailles in Kentucky.
Kyle Touchstone: Right. So following that location Dennis did all of their site locations across the United States. He was also working with their suppliers to locate them. So I really kind of dove in head first. During that project I realized I really love economic development. Ended up leaving there shortly afterwards and going to Knoxville, Tennessee to work at their chamber in the Economic Development Department.
They needed a project manager. I wanted to learn more about economic development and their track record was very strong for a mix of companies in their area. So I went there and I stayed six years.
First project came in 27 days after I started and that was Green Mountain Coffee Roasters. It was their first location outside of Vermont. It was back when K-Cups and Keurigs were not really well-known yet, but they saw the growth and expansion of their product and so, they knew they needed to start planning for the future.
We were successful in locating that project in Knoxville in an existing facility that we had. Ultimately it was a $55 million invest with 300 jobs. When I left in 2013 they had invested over 200 million and had 1,200 employees, so that's just one of the examples.
I also worked with all of the existing industry, and during the downturn of the economy we had many, many companies that shuttered their plants or combined operations elsewhere, and so I really got a fantastic education working there. The largest sign manufacturer in the world was located there, they closed.
Over the course of a weekend a peer of mine in another county and I recruited five sign manufacturers to Knoxville to ultimately pick up those contracts, hire those employees. And so, over the course of a week we had the majority of those people back at work, which was really phenomenal. That's probably one of my proudest moments of being quick to react, and having a good game plan, but also looking outside of your immediate area and really working on a regional basis.
Gene Galin: Quick question on that, you said you had five sign manufacturers came in, so you had them take over the same facility that that large facility, is that what happened?
Kyle Touchstone: They ended up taking up new, smaller facilities, but they were able to hire a lot of those employees who lost their jobs when that company ultimately closed. There was about a one week or a two week period that year where we lost about 3,000 jobs in that community, and so it was pretty tough, but I believe currently there are no vacant facilities in that community, so really, really had the opportunity to work with office projects, call center projects, manufacturing and entrepreneurs. During that time we also started an entrepreneurial program and it has just continued to grow in that community.
From there I was recruited to Tallahassee, Florida where I served as the Executive Vice-President of their Economic Development Corporation until I left in 2016, 2015 and came here to Chatham County and really saw great opportunities here.
Chatham County is very much like my home county, Pike County, Mississippi and really, really saw some opportunities here to help, help us move forward as we continue to see the growth that is occurring here.
Gene Galin: The other thing is too that the folks here in Chatham County should be proud of is the fact that our EDC president last year made the Triangle Business Journal 40 Under 40, what did that entail? Did you have to do an essay? Did you have to stand up in the front of the board? Did they say, "Kyle you are so fantastic that we just want to name you one of our 40 Under 40"?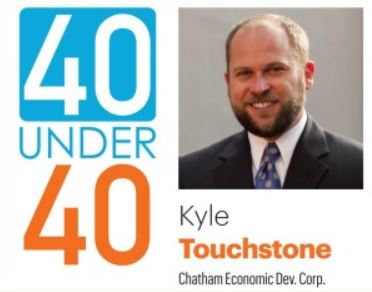 Kyle Touchstone: Well it was a little shocking after only having been here for a year to receive that award. I was nominated by someone, and then I got a text from a good buddy who said, "Congrats." I said, "What were you congratulating me on?"
It turned out that I had been selected and based on the work that I've been doing here in Chatham County, our success with recruitment of new companies. I am very honored and hold that in high esteem. I really did not expect to receive that, so really appreciate that, and thank that group for selecting me.
I believe I was one of maybe two from Chatham County that were selected, but the year previously my former board chair, who is now going to be my past-chair, Chris Ehrenfeld had been selected, so that was quite an honor for me, especially with the success that he has seen with his businesses.
Gene Galin: Yeah, I think when you took the job you had a chance to meet … Tim mentioned that you were in a unique opportunity here because there's so much some potential in Chatham County. So moving into, hey, when you came into it, came into the position here in Chatham County what did you see as the opportunities? What have you seen happen over the last two years that you've been here? What are the good things? What do you see as the challenges that you've faced for the last two years? Then we'll talk more about in the future.
Kyle Touchstone: Okay. I have to thank my predecessor, Dianne Reid, who did an excellent job of really laying the groundwork for this organization, and doing a lot of the work to get sites more ready, create opportunities here in Chatham County. I was fortunate to be able to spend a month with her kind of in a transitionary period in February of 2016, where she introduced me to a lot of the key players here in Chatham County, in our region but also within state.
I remember one day we were riding back from a meeting and I looked at her and I said, "Are you sure you want to retire? You've done so much to get this county to where it is, and now we're going to really start seeing the fruits of your labor." She laughed and said, "No, it's time." And so, I have to say, thank you to Dianne for all the great work that she did, and the team here at the EDC.
And so, it's been a fun two years. I think the first day of me taking the reins I was on a plane headed to Atlanta to pitch one of our megasites, the CAM site located in the Siler City ETJ to a large manufacturer. That's either drinking from the water hose, or fire hose, or diving in headfirst, but it was a great way to force me to jump in, really learn the site, really learn the attributes of Chatham County, which of course prior to my coming here I had done quite a bit of research to be able to come here and hit the ground running.
Actually one of the ways that did that was I subscribed to the Chatlist in October of 2015, and so I really was able to pick up on a lot of information that way, but we've had several great successes.
In May 2015, '16 sorry, May of 2016, we were able to announce the Mountaire Farms project, locating in the former Townsend facility in Siler City. That was an announcement of about $70 million in investment, 500+ jobs, that included expanding their Mount Vernon hatchery, which is just south of Siler City, but within Chatham County.
Kyle Touchstone: And so, it really gave Siler City some hope that the work that they had been doing was starting to pay off. As you know, in 2010 and 2011 they had closures, they had major job losses. They had just done a water plant expansion and the costs of those expansions were now going to rest on their residential users for water. And so, it really paid off though in the long run to have that water plant expansion.
As you know, this past year we were in some drought conditions, but having that in place really I think help prevent them from hitting major drought conditions, but also because of some of the work that has been done in the past we have the ability to … where we are, the town of Siler City is interconnected with Chatham County in being able to purchase water if needed. So while there were drought conditions we still had the ability to purchase from the county, if needed. So, that's one of the proudest moments. The other-
Gene Galin: Well before we go on to the other one, Mountaire we're recording this in May of 2018, they're actually having a Job Fest coming up on the 17th and 18th of this month…
Kyle Touchstone: They are.
Gene Galin: … and you're saying they have 500 jobs and $70 million worth of investment and capital investment?
Kyle Touchstone: Correct and that was initially. They are now going to be doing a larger investment and additional jobs. We're looking now at probably 1,200 jobs for that community, which is ultimately more than what they lost during the downturn in the economy.
That informational job fair, it's being posted through our Workforce partners, Central Carolina Community College, Triangle South Workforce Development Board, and we're really excited to have that partnership who can help us find those employees that we need, those with the skills already in place, but also to help us in providing training to get people where they need to be.
That fair is to learn about the jobs. We will begin hiring within the next couple months for that plant, and so really the job fair is to learn about what jobs are available, the process that potential employees will go through and really learning what they need to provide to go through that application process.
I think they'll learn about wages and hours, and those things as well. So we're excited about that. That's a big win, but also the grant money that has come with that win. That's the piece that a lot of people don't understand. In rural areas there just really isn't a lot of funding to help those communities grow and be prepared and ready for job growth, and recruitment of new companies or expansion of companies.
And so, the town of Siler City who has been so proactive under their board leadership and town manager, Bryan Thompson, they have been able to secure, I believe it's about $10 million in grants based all that Mountaire project, as well as having the CAM site within their ETJ to expand their water plant, expand their wastewater plant.
By having that in place it opens up more opportunities for companies to come in and not stress a community. Every time that a company is looking at a location they're looking at workforce, number one, but they're also making sure that the utilities are there to serve those plants.
So kudos to the town for being so proactive and working day in, and day out to be prepared, but again because of those economic development projects we've been able to tap into some of those grant funds either through Golden LEAF Foundation or through CDBG grants.
Gene Galin: Before we go on to your second proudest achievements, Mountaire you mentioned that they're actually talking about 700 initial jobs on top of that 500 and spending more capital expenditure money. What's the EDC, where are you, and what is Chatham County doing to be able to convince a company to say, "Hey, you know what? We see a lot of the things here and we're looking to spend even more money and investing it in the people and the resources and county of Chatham County"?
Kyle Touchstone: Right. So if you look at this region, Chatham County sometimes gets pulled between being part of the Piedmont Triad region, part of the Research Triangle region, and I look at it as a win-win because we're able to utilize resources from both. We're able to pull a workforce, if needed from those communities to help us attract those companies, but ultimately you've got to have investment and tax revenue for the county and the municipalities to provide quality services for its residents.
By that I mean, having a great education system, having parks and trails, and opportunities for people to get out and exercise and lead a healthy lifestyle, but that's also driving our residential growth, and we have to have those residents here for us to have jobs.
Our county now has 72,000 people in population. We have a workforce of 33,000 people, but we only have 14,000 jobs in the county. Every day we have 5,000 people that are living and working here, 9,000 people that are coming into this county to work, and about 21,000 that are leaving here to work elsewhere.
When that occurs those people who are working elsewhere but coming back here and staying at night, they are buying all of their goods and services in those surrounding counties. We're losing about $9 million annually in sales tax revenue, and imagine if we could bring those revenues back to this community.
So I think that being prepared comes from many fronts, and you got to have that workforce, our partnerships with the school system, with the community college, with our surrounding phenomenal university systems that are in place, it really is a phenomenal time to be here. People keep saying, "When it happens or when the growth comes" but we're in the middle of it now.
Gene Galin: So it's happening now?
Kyle Touchstone: It's happening now, and we talked about this at Opportunity Chatham 2017, which is our annual meeting that's held in October of every year. We talked about how it's happening now with the addition of Mountaire, with continued readiness of the Chatham Siler City advanced manufacturing site or as we call it, the CAM site, and the new one to the race, the Moncure megasite, but also what's happening with Chatham Park.
All of those sites are a product that are helping us move forward. Chatham County this past year exercised or they entered into an option agreement with both the CAM site and the Moncure site. By doing that we were able to obtain grants from the Golden LEAF Foundation.
The CAM site received a $4 million grant, which is above the 10 million that I spoke of earlier, and that's to extend a water line to the site. The Moncure site is being provided wastewater by the city of Sanford in a partnership with Chatham County to again continue readying that site for large industrial users.
Our organization operates under a strategic action agenda that was adopted in 2014 that runs from 2015 to 2020. Within that action agenda it drives the work that I and my team do on a daily basis. Identified in the strategic action agenda is developing those two industrial sites, continuing to further Chatham Park, but also making sure that we have the infrastructure to support that growth.
So I appreciate Chatham County stepping up and entering into those option agreements. I also appreciate the town of Siler City being able to assist in some of the funding of one of those option agreements and then also doing the process of the construction of that water line.
So a lot of things at play, a lot of exciting times for us, but at the end of the day this organization is focused on recruitment and new business, expanding our existing business, but also trying to help small business through our  connections with the Central Carolina Community College Small Business Center, the Small Business Technology Development Center, SCORE, the State of North Carolina, their Department of Commerce, the Economic Development Partnership of North Carolina.
Then also our grassroots efforts here in Pittsboro and in Siler City through the Pittsboro Business Association, the Main Street Association in Pittsboro. Then in Siler City, the Siler City Development Organization and the Siler City Merchants Association.
So it takes all of us. It takes all of us to see this community continue to thrive. The growth that is occurring here on the Eastside of county is phenomenal, we just need the jobs to get us more of that live or play here.
Our work with those major developments is making that happen, while some people don't see the daily work that's happening, it's in play and we are full blast working with those developers to continue providing those opportunities.
This past year we had 1,400 people in Chatham County looking for jobs, but we only had 400 jobs available. Our unemployment rate for 2017 dropped from a little over 4% down to 3.8%, so while those numbers are great we still have to continue providing services to recruit and grow business that have a major impact on tax revenue and hiring people, consumer spending, and really when that occurs, when these larger impacts occur, it's impacting smaller business as well because of the consumer spending and the goods and services that they're providing.
Gene Galin: What was your second most proudest achievement over the last couple of years?
Kyle Touchstone: That I'm still here. Just kidding. I'm just kidding. No.
Gene Galin: We're happy you're here.
Kyle Touchstone: Well I am very happy to be here as well. It is a nonstop job. When I came here I knew that … and that was one of my selling points is, not married, don't have children. I'm committed to the work, and this has been such a welcoming community. I love the people that I get to work with every day, and we're all striving towards the same goal.
I don't know if I can pinpoint a second proudest moment. I think it's that really we are embracing the growth now. The relationships that I'm building, that this organization is building, really being seen as an asset in providing value is key.
I think we all like to feel wanted and needed, and I know I certainly do. I like that there are things that we can do as an organization, as the president of the organization to continue seeing Chatham County be the best that it can be.
Gene Galin: We were originally pegged to do this 30 minutes. We're at 30 minutes right now, but if you don't mind I mean-
Kyle Touchstone: I'm quite the talker so-
Gene Galin: Okay, that's fine and this is good stuff. I think went beyond what I originally was going to ask  which is great. I think somebody watching this video or reading the transcript is going to see a whole lot. I think the three words you've mentioned that really stick with me is basically, Chatham County will be a success when folks can both live, work and play here, three things. It sounds like you're working towards that. So if you don't mind, we're going to continue a little bit longer.
Kyle Touchstone:  Absolutely.
Gene Galin: We're going to touch on megasites. We're going to touch on what you see at the future in Chatham County over the next dozen years. Then I came up with a few questions because as you were speaking I was kind of like, "Hey, there's some other additional information we may want to use."
Okay, let's talk about megasites. People hear about megasite this, megasite that. What I'd like to know is, when I say, "Megasite" to you, what do you say to both the citizens of Chatham County or somebody who's looking at a megasite as a what a megasite is? What do Chatham County megasites offer to businesses? What makes Chatham County's megasite so attractive to bring businesses into Chatham County?
Kyle Touchstone: All right. So a megasite. These are few and far between across the United States. Typically, for industrial use a 1,000 acres is what I consider a megasite. Utilities in place, workforce availability within a 60 mile radius, and really I think the access, the location logistics. Those are the key players to make a megasite successful.
We've been a little fortunate here in Chatham County, in most communities where there is a megasite it's been developed by the local government, fully funded without private developer's input. Ultimately the CAM site and the Moncure megasite have been developed by private developers.
Gene Galin: When you say the "CAM site" you're talking about the site by Siler City?
Kyle Touchstone: Right. Right.
Gene Galin: Okay.
Kyle Touchstone: So private landowners have been working diligently to really get those sites ready. When I say, "Ready" the work that goes into making sure that it is a viable site is pretty long and exhausting. Boundary surveys, phase 1 environmental report, sometimes a Phase 2. Luckily ours passed with Phase 1s, and didn't require a Phase 2 environmental study.
Archeology and cultural surveys of both sites, and geotech reports ensuring that we have adequate utilities, whether it be power, gas water, wastewater, broadband, the transportation network, so a lot of the work has been privately funded. Then kind of tied up in a nice bow and handed to us to market for these communities.
We have been pretty successful I guess, the word is, in being recognized as viable sites. We continue to get looks from prospective companies. While we haven't reached the finish line yet, which I believe is coming sooner rather than later, the work of these individuals, the partnerships of the counties, the towns to help make them successful, and to really encourage the EDC to make them successful has been pretty exciting.
The Moncure megasite really has turned into a partnership of Harnett County, Lee County, the City of Sanford and Chatham County. Those counties and towns see the possibility and the opportunity for a workforce and suppliers to whatever may land there. It's location just across the Chatham County line from Wake County along what the developer, Steve Stroud calls, Interstate 1, is really phenomenal.
It starts by CSX rail. There's a rail sort of already on-site. Having Shearon Harris power plant nearby, but also having two transmission lines that are there at the site really make it a valuable site, valuable opportunity for this entire region.
The CAM site of course it's being developed through Samet Corporation based in Greensboro, which brings a wealth of knowledge and expertise to the site. And so, any time that we can partner with these organizations, and the Moncure site is with NAI Carolantic. So it's a strong partnership that only helps us.
In the newly adopted Chatham County Comprehensive Plan, these two sites were identified as targeted employment centers. Areas for major employment, major growth, where we are going to do our best to utilize resources to provide infrastructure such as water and wastewater to those sites, to make them viable for job growth.
We really want to protect our rural character, our agricultural land, and so by doing this, by limiting the growth that can occur in those areas and protecting those areas we're really trying to focus on these targeted employment centers, our municipalities which have water and wastewater capability. We have been very fortunate to get these sites identified as targeted employment centers that only help us continue to market and grow those sites.
Gene Galin: So if I'm a business looking at the megasites, the megasites seem to provide me as a business with a lot of free work that's done. It cuts down on the amount of hassles that I have to do before I actually start building my facility or facilities. As a targeted employment center it seems to be that Chatham County, the government is supporting this function and is there to help whatever business chooses to go a megasite to make it as hassle free as possible for that megasite is that …
Kyle Touchstone: That is correct. I always look at the company when they were interested in one or both of the sites, at their drivers, which their drivers most times are eliminating risk and speed to market. We try to provide that here. That is number one goal with those megasites is eliminating their risk by having all of their studies.
The CAM site has been certified by the State of North Carolina. It's a pretty rigorous certification process, but again, that's the ultimate goal of that program to really show this site can meet your timeline within 12 months.
The Moncure megasite, we are waiting on the certification with it, but it's over process. We're finishing up a few things with the wastewater extension, but again these are two complementary sites that sometimes they compete against each other, but I would rather have more opportunities than limited to no opportunities.
I think you have to throw Chatham Park in as well. It's the largest development in the State of North Carolina, while it's not an industrial site, it is here in Chatham County, and it too can provide some phenomenal opportunities, especially for that live, work, play opportunity.
They have constructed their water tower. They are currently constructing their wastewater plant, and if you've driven along 64 Bypass, which I encourage you to do if you haven't, the interchanges are going in now for Chatham Parkway to 64 Bypass. So again, we could say that the growth is coming, but I say that the growth is here. We continue to have companies want to get here, want to be here surrounding Chatham Park as it takes off.
I have to mention developments like Briar Chapel, they were selling about 300 new homes a year, and will cap out on that development are about ago about 2,600 homes, but it's bringing a younger population in that is helping us also when we are looking at potential job opportunities here, but if you look at their trail system and their amenities within that development I think you're going to see similar type things in Chatham Park. And so, that's a major win for this community.
Gene Galin: So if look in Chatham Park, that primarily falls in the Pittsboro ETJ, if I'm not mistaken?
Kyle Touchstone: Correct.
Gene Galin: What's EDC's relationship overall? It sounds like you're involved with the folks at Chatham Park, but you're also since a lot of that external developments going to be within the county, not within Pittsboro. I guess you're involved there as well?
Kyle Touchstone: We are. Chatham Park is part of our strategic action agenda, and again like I said, that drives the work with this organization. We do have a contract with the county to provide economic development services, and so those opportunities are really to try and provide the infrastructure, support them in their work in getting ready to recruit new business and such.
But if you look at Mosaic at Chatham Park, which is really the front door of Chatham Park, which is being developed by the Eco Group, that's ultimately a $800 million investment that will bring about 1,500 jobs. Then you look at the remainder of the North Village, which is really from here in this office, north, that is going to really provide some excellent opportunities for housing, for medical which we've already seen. UNC having a medical office building there that it is busting at the seams, if you will.
We also have the UNC Hospice Center that's located within Chatham Park, but we have the opportunity for about 1.2 million square feet of commercial and office space within the North Village. We're working with O'Brien Atkins through Chatham Park.
O'Brien Atkins is working to help us develop that section of office and some R&D that will bring about high-paying jobs, some great investment into the community, and really can set us apart. It's really kind of the next Research Triangle Park, if you will.
Gene Galin: The other thing I've heard mentioned is UNC Hospital and Health Services. I think somebody referred to there's a potential for 15-501 going from Chatham County Courthouse all the way up to Chatham County border with Orange County as the, what is it, Health Services Boulevard or Healthcare Boulevard?
Kyle Touchstone: Right. Well if you look at the joint project of Chatham County, Central Carolina Community College, Briar Chapel in developing the new Health Sciences Center, which I believe that project's out to bid for construction at the moment, which the location of that is phenomenal because those students will be able to really get some on-the-job training within that healthcare corridor or boulevard, if you will, because of Galloway Ridge, Carolina Meadows, which Carolina Meadows is currently our largest private employer here within Chatham County.
The UNC Hospital System, which is about 10, 15 minutes away from that site on 15-501, but then also having the programs in place at Chatham Park. So I think that we'll continue to see that sector grow, especially providing the workforce for that sector.
Gene Galin: Right. From what I understand being on the Planning Board, a lot of those locations that provide healthcare services are already saying, "Hey, you get the folks trained and we will hire them."
Kyle Touchstone: Absolutely.
Gene Galin: So if somebody's looking for an opportunity or a job, hey, there's something that we will have the facilities here in Chatham County that they'll be able to do that.
Kyle Touchstone: Right.
Gene Galin: Let's take a look, it's 2018 that we're recording this, let's take a look, what do you see as the future of business here in Chatham County over the next dozen years going to 2030? If things lined up correctly, hey, here's what Kyle sees the future as being, if worse case scenario, maybe there's a downturn in the economy, but even with that it seems that there's still a huge upside for Chatham County with all the things that are being set in place right now.
Kyle Touchstone: Right. Well as I mentioned earlier, the Chatham County Comprehensive plan, which is ultimately a 20 year plan, that has just been adopted by the county commissioners after quite a bit of input from business leaders, our residents here in Chatham County, that really will drive our growth here.
As I've mentioned also our strategic action agenda runs toward 2020. We are getting ready to do an update to that strategic action agenda which ironically Economic Leadership LLC, which is a group headed by Ted Abernathy, they did the economic development portion of the Comprehensive Plan. They've also done our strategic action agenda and will most likely to update just because of their knowledge and the desires of the people of Chatham County.
I really think that the types of companies that we have here currently, the types of companies that we've been identifying are companies that can withstand an economic downturn, especially when you look at health services, food processing, we all have to eat and we all need medical attention. And so, by having those types of industries here I think that where we may see some difficulties is in housing.
We currently, through the county there is an Affordable Housing Task Force which is looking at how to best provide housing for working our population. We do have quite a bit of wealth in this county where people were able to come into this county and take advantage of our lower tax rates, property tax rates, than surrounding communities, but still be able to access the great amenities of this region.
And so, typically with the downturn you start to see housing sales start to slow down. Our houses spending more time on the market. So I think that, that might be where we see some issues. We have had tremendous housing growth occur here in Chatham County.
I don't mean to pick on Siler City, but a couple years ago they had one building permit issued for new residential. I think the next year they had two, and so that has run.  So we are seeing this growth across the county and it's really evidenced through that type of activity, and we're seeing more houses enter the real estate market. Also, they're not staying very long on the market, people are buying them very quickly, especially in a certain price range.
Gene Galin: Right.
Kyle Touchstone: But again, when you look at housing costs in our surrounding counties we're pretty affordable compared to that. Is it affordable for everyone? I don't think so, so that's where we really have to do some work. I think rental units is very important, whether that be town homes or apartments, but that's an area that we're going to continue to focus on.
Gene Galin: All right. At Chapel recently, within the past year restructured a portion of their development where they are bringing in I think about 200 rental properties to combine with their business, so again, going back to that live, work and play philosophy, it's intermixed.
Let me ask you this question. When you're dealing with businesses and when you're dealing with business owners or corporate owners maybe some time during the conversation they go, "Here's a question. Kyle I like what about Chatham County, but I think Chatham County can what better?" The question is, what do they love about what Chatham County's doing? What can Chatham County do better?
Kyle Touchstone: They love our proximity to urban cores, so proximity to Raleigh during Chapel Hill, the amenities that those communities bring, Greensboro as well, and also Charlotte because when a lot of these large companies are looking we're looking all the way to the Charlotte region for workforce and flights and such, so that's what people love.
They also love the affordability of being able to bring a large manufacturer to this community and maybe not have to pay as high a price as some of those other areas. From any of our large sites you can get to an airport 30 minutes and have great opportunity to get just about anywhere.
Our interstate system in this region is another piece that they love, and the opportunity to have either Norfolk Southern Rail or CSX rail serve companies, again a big plus. Where we continue to need to do a little better is in making sure that when we're pitching a site we have infrastructure in place.
The CAM site currently, water is ready to be run there, but we still have to figure out a solution for wastewater. We have the design and engineering complete, and then about a 12 year timeline of construction. The Moncure megasite has water, gas, broadband and power, and now we're running wastewater to it, so that site will really be ready to go.
I think that having expanded capacity of those infrastructure utilities may be something that we have to work on down the road. Chatham County is getting ready to go into a regional water planning project, which is something that we're all going to have to focus on and look at, but that is something that I think is exciting, that will help us continue to grow and continue to answer those questions of, "Okay well my company will locate here and it will work really well right now, but what about 10 years down the road when I'm growing my business?"
So we'll continue to address those issues. We've got a great team effort through the county and the municipalities. Then our partners in surrounding counties and towns, and we're all working together, and that's what's important. Companies aren't looking to county lines, they're looking at regions.
Gene Galin: Well it sounds like from everything you've told us, is right now Chatham County is sitting in a very sweet spot. You mentioned the variety of jobs and businesses that you're pursuing, so it sounds like as a community and as an EDC you're looking at what investors would call, a successful portfolio of opportunities by spreading it around various interests, various business to what as you mentioned food production, manufacturing, all sorts of things.
I know we talked about this before, but I think you're in a good position to where you can get a lot accomplished with the EDC in Chatham County. You and Chatham County and the EDC, in the unique opportunity that we're planning for the future and we're going to be able to offer both folks who live here, work here, and play here a great combination of just a good quality of life.
Kyle Touchstone: Right. Well having been here for just two years I had started really taking a step back and thinking, "There's nowhere else I really want to be." There's such a great mix of opportunity here, a great quality of life. I think we're going to continue to see people want to take advantage of that, especially of some of those amenities and such that grow here.
Ironically, I can't buy cotton dress shirt here in Chatham County, and so I'm guilty of having to go across county lines and buy those types of  needs and services, but it's common. People, we're seeing the excitement, we're seeing the desire for this type of growth.
You're right, we are in a sweet spot, really can't beat it, people, location. We're going to have to continue to all work together to see Chatham County be a great place for business. By doing that it's keeping our tax rates low. Making sure that our schools are continuing to be some of the top of the state, which is just phenomenal, and kudos to them for those rankings.
Gene Galin: Yeah, I think Woods Charter School made the top 100 now in the U.S. News & World Report.
Kyle Touchstone: Absolutely. So seeing those pieces and continuing to invest in those needs, infrastructure. The Chatham EDC is public-private, if you will, we receive some funding from the county, but we also receive funding from private companies that are wanting to see Chatham County growth, that are valuing the work that we're doing. So we appreciate all of those individuals and companies that really have an interest here and want to see things happen.
Gene Galin: Well Kyle I want to thank you for taking this time. Folks who are watching this, whether you're a citizen of the community or a business taking a look at this, hey we'll have a transcript and I'll take a look at this. I can see a lot of great things going on in Chatham County. A lot of information here from Kyle and the EDC. You know what, if you want to come in and find a great place to do business, it sounds like Chatham County is open for business.
Kyle Touchstone: We are. We are open for business and I appreciate this time. I apologize for running over. Like I said, I could talk forever. This is my passion. We really want to be here and provide those core services of an economic development agency, of growing jobs, bringing investment here and really providing a good quality of life for Chatham County residents.
Gene Galin: Yeah. Well thank you so much Kyle.
Kyle Touchstone: Thank you.
Gene Galin: Thanks to EDC and thank you for watching.
The hour-long video interview was cut into "bite-size" tidbits for easier consumption.