Pittsboro, NC – The Northwood High School Arts Education department presents their annual spring musical, The 25th Annual Putnam County Spelling Bee, March 24-26 in the Northwood High School auditorium.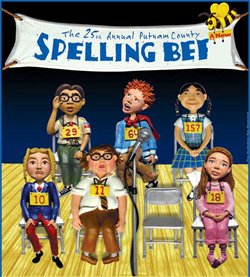 The 2005 Tony Award-winning musical comedy follows six middle school spellers and the quirky grown-ups overseeing the competition.  Along the way, shy Olive Ostrovsky, overachiever Marcy Park, young Logainne Schwarzanggrubenierre (with the lisp and gay dads), homeschooled Leaf Coneybear, Millicent Barfée (with the unique spelling technique) and last year's Boy Scout winner, Chip Tolentino, learn surprising lessons about failure, success, competition, and friendship.
Directed by Dr. Lori Carlin, principals in this year's production include: Jessie Vohwinkle (Rona), Coby Jones (Vice Principal Paunch), Stephen Stark (Chip), Josy Christian (Logainne), Jeremiah Hartsock (Leaf), Miriam Stambach (Marcy), Livy Griffin (Olive), Charlotte Harrison (Millicent), and Rashawn Holland (Mitch).
At each performance, this offbeat, hilarious musical also offers audience members the opportunity to participate in the bee. So break out your dictionaries or subscribe to those Word of the Day websites to prepare.  Just remember, "If you start to spell a word, you may start over, but sequences of letters already spoken may not be changed!"
The show will be presented on Thursday, March 24, Friday, March 25, and Saturday, March 26 at 7 pm in the Benjamin Lee auditorium. Spelling Bee is rated PG-13 as some material may be inappropriate for children under 13. Running time is one hour & forty-five minutes including a short intermission with concessions available to support the NHS Arts Education Foundation scholarship program. Admission is $8 for adults and students and $5 for senior citizens.
You may order tickets in advance at www.SeatYourself.biz/Northwood or at the door.